FRESH NIGERIAN FOOD INGREDIENTS DELIVERED TO YOUR DOORSTEP
ALL ORDERS SHIP WITHIN 2 BUSINESS DAYS WITH QUICK DELIVERY....
WE OFFER STAPLE NIGERIAN PRODUCTS FROM TRUSTED BRANDS TO HELP YOU PREPARE YOUR NIGERIAN CUISINE.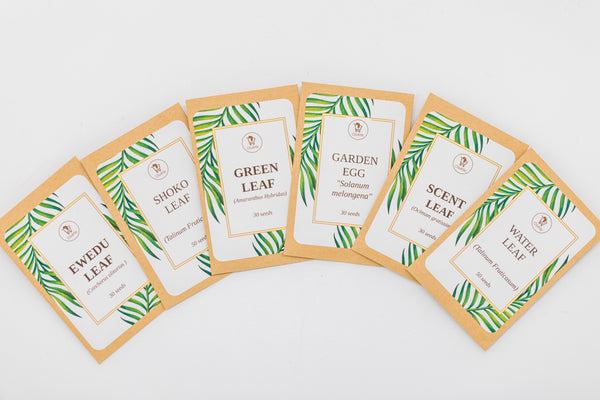 INTRODUCING NIGERIAN GARDENING SEEDS
Grow a variety of most loved Nigerian vegetables in your backyard or balcony garden. Whether it is garden eggs for African salad or scent leaf for pepper soup, nothing compares to the rewarding feeling of growing and cooking with fresh Nigerian vegetables from your own backyard. Especially while living in diaspora.
Shop Our Seed Collection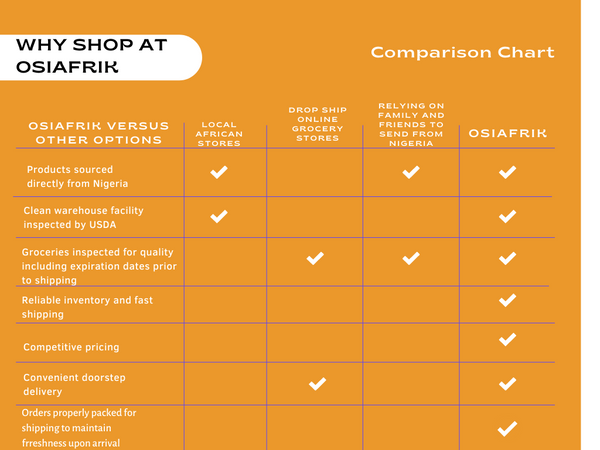 Why OsiAfrik?
At OsiAfrik we provide a hassle-free and convenient shopping experience while providing top quality authentic Nigerian food products. Our customer's satisfaction is our top priority.
FAQs
Frequenty Asked Questions
1. How soon after placing my order will my order ship? 
All orders are shipped within 2 business days.
2. When will I receive my order?
Most orders are delivered between 1 - 5 business days. Delivery to Hawaii and Alaska may experience additional delays.
3. What Countries do you ship to?
At this time, we only ship within the United States.
3. Do you accept payments through other third party vendors such as venmo or cashapp etc?
No. We only accept payments through our website. 
4. Do you offer discounts on bulk purchases?
No. We do not offer wholesale pricing at the moment. 
5. Can I change an order I just placed?
Please call us as soon as possible if you would like to change your order. We are not able to change an order once it has been shipped. 
6. Do you ship to Canada?
We don't ship to Canada